We conduct rigorous, mixed methods evaluations to translate products to safety-net health care settings. S.O.L.V.E. Health Tech can conduct evaluations for digital health companies via a sponsored research agreement, typically 6-24 months in length. These projects typically include study design, ethical approvals, participant engagement and recruitment, data collection, data analysis, as well as presentation and dissemination of results (including in the peer-reviewed literature). Contact us if you are interested in an evaluation. 
InquisitHealth participated in our first health equity incubation cycle. We conducted a case study of their Peer Mentoring Program, demonstrating substantial uptake and enrollment among racial/ ethnic minorities (83% of program participants identified as non-white) and those with high comorbidity burden (79% had at least 3 chronic illnesses). Program enrollees also showed improvement in HbA1c values. Most enrollees in the program used phone calls, instead of the smartphone app, which underscores the need for multi-modal approaches in peer-coaching.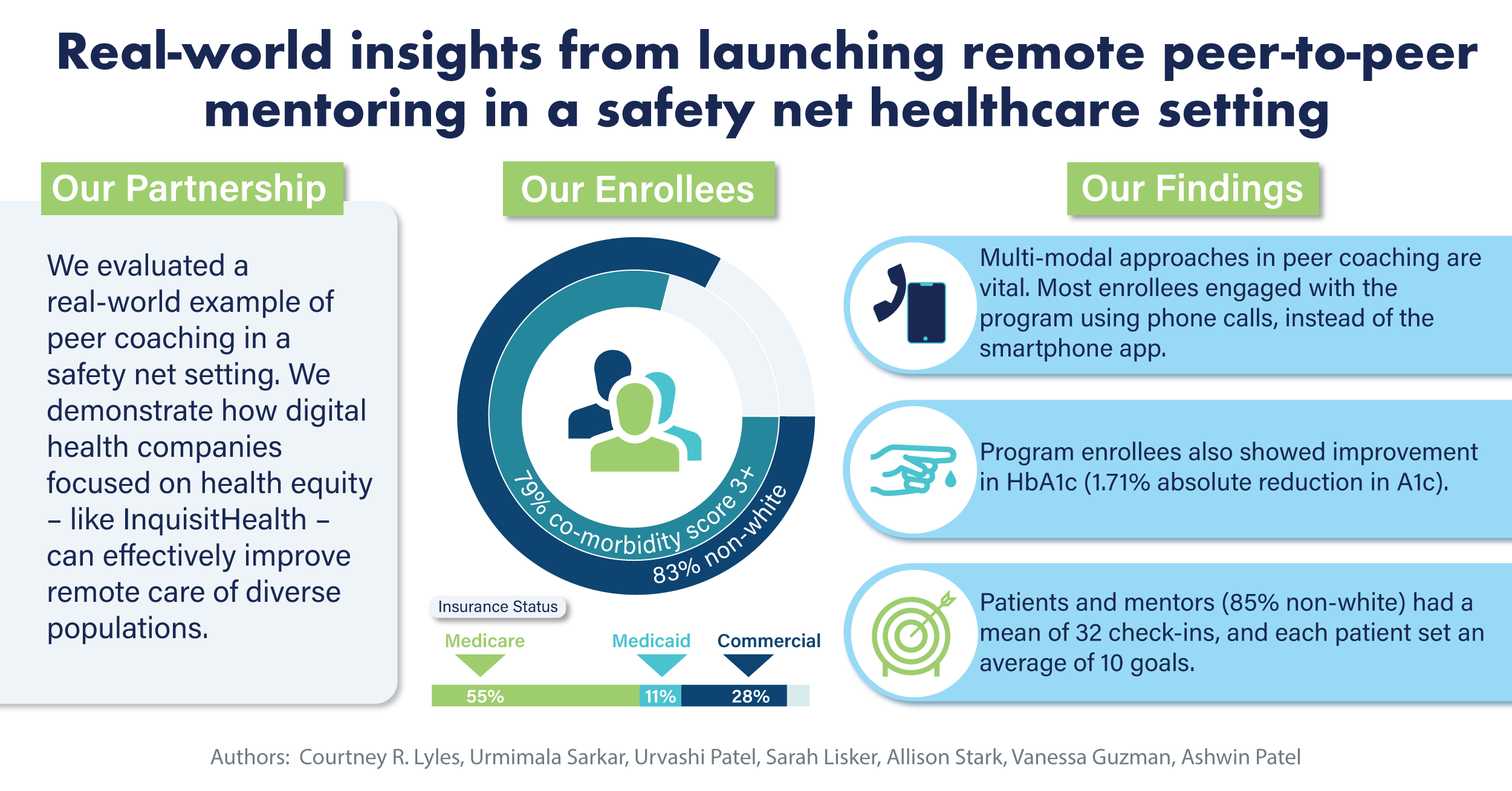 Dr. Allison Stark, Vice President and Chief Medical Officer of Montefiore Care Management Organization, served as a clinical partner during implementation and is a co-author on the paper. Dr. Stark commented on the role of mentors in the InquisitHealth program, "Patients had substantial engagement with mentors and we saw significant improvements in clinical outcomes. They expanded both our reach and impact."
Another co-author, Vanessa Guzman, MS, ME, previously served as Associate Vice President and Director of Quality Improvement at Montefiore. Ms. Guzman shared, "Through coaching, technology, and interoperability, InquisitHealth plays a key role in connecting our greatest assets of all - individuals and communities. Empowering communities leads to healthier engaged and efficient systems and improved access to care in vulnerable populations."
Ms. Guzman added, "More than ever, it's important to acknowledge the systemic health disparities that exist and enable resources that speak to what matters to patients -  as people. Our ability to leverage digital solutions to promote health literacy and chronic conditions management in low-income and racial/ethnic minority groups moves us a step closer to cultural and health evolution."
InquisitHealth successfully leverages patient-centered approaches to deliver peer coaching to patients from racial and ethnic minority groups, such as meaningful patient-mentor matching and addressing social determinants of health. This real-world example of peer coaching in a safety-net setting demonstrates how digital health companies focused on health equity – like InquisitHealth – can effectively improve the remote care of diverse populations.