Digital Health Equity Summit: Leveraging Transformation from COVID into the Future 
There is more investment in digital health than ever before, especially during the pandemic with rapid acceleration of many digital health modalities. However, there are disparities in digital health uptake and engagement among marginalized and minoritized populations, low-income patients, as well as chronically ill seniors – coupled with limited population-level health improvements linked to digital platforms. Now is the time to reimagine how digital health can provide all patients with the opportunity to live healthier lives.
On April 30, 2021, we hosted a virtual Summit to build agreement across stakeholder groups around the barriers to digital health equity and discuss action-oriented solutions to overcome them. The underlying premise is that we cannot achieve equity in digital health without cross-sector discussion and partnership. The American Hospital Association's blog post includes 5 key takeaways from the Summit, and our summary describes reflections from the multi-stakeholder advisory group.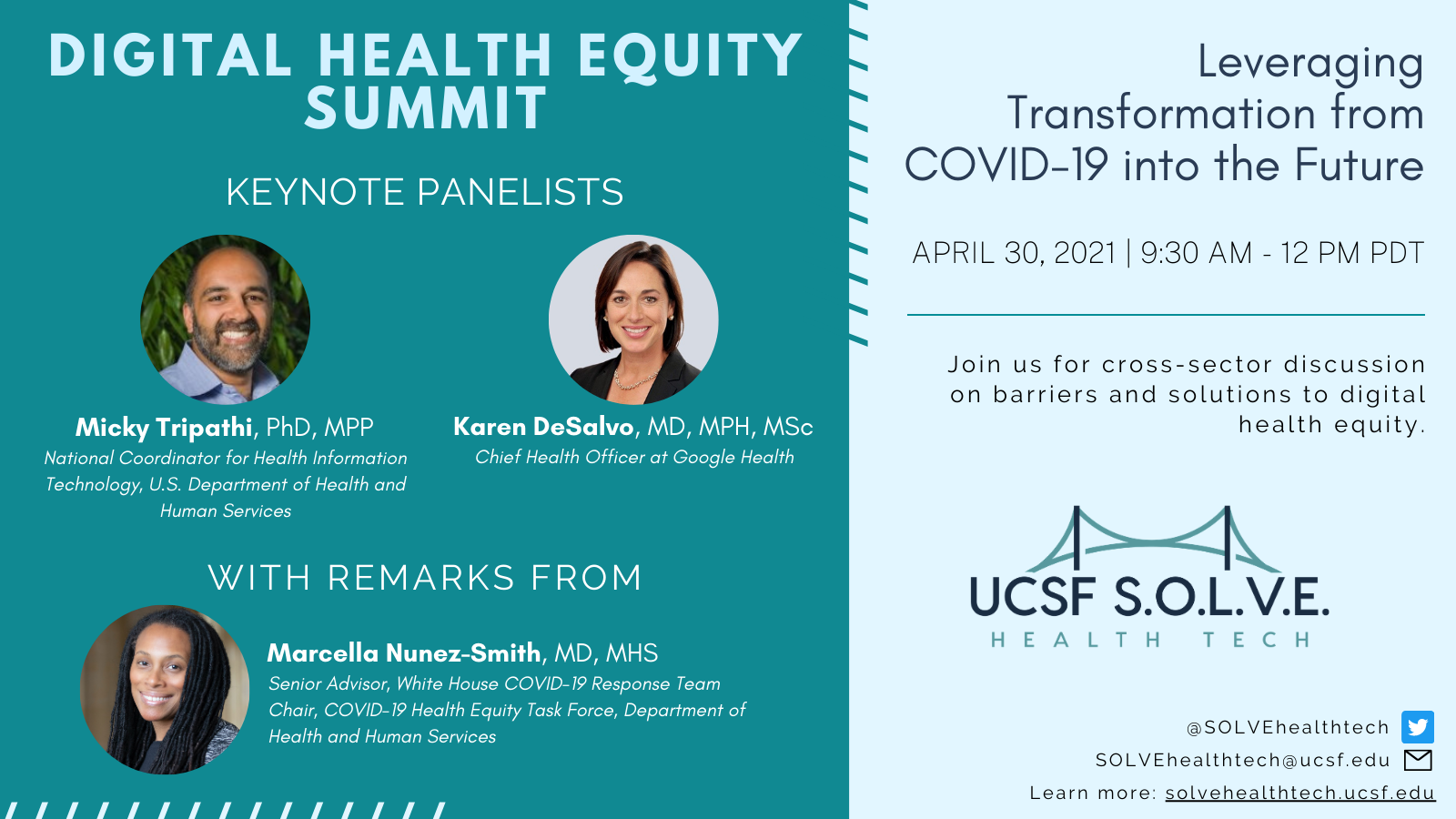 Steering Committee
Julia Adler-Milstein, PhD; Adrian Aguilera, PhD; RADM Richardae Araojo, PharmD, MS; Adimika Arthur, MPH; Veenu Aulakh, MSPH; Kirsten Bibbins-Domingo; PhD, MD, MAS; Molly Coye, MD, MPH; Jennifer DeYoung, MPA; Alicia Fernandez, MD; James Glauber, MD, MPH; Mark Goldstein; Ivor Horn, MD, MPH, FAAP; Elaine Khoong, MD, MAS; Margaret Laws, MPP; Ben LeNail, MBA; Pooja Mittal, DO; Andrey Ostrovsky, MD, FAAP; Michael Penn, MD, PhD; Neil Powe, MD, MPH; Megan Ranney, MD, MPH; Michelle Tarver, MD, PhD; Bob Wachter, MD; Laurie Zephyrin, MD, MPH, MBA