The UCSF S.O.L.V.E. Health Tech team is internationally recognized for advancing the field of digital health equity. Below you can find a selection of talks given at local, regional, and national conferences.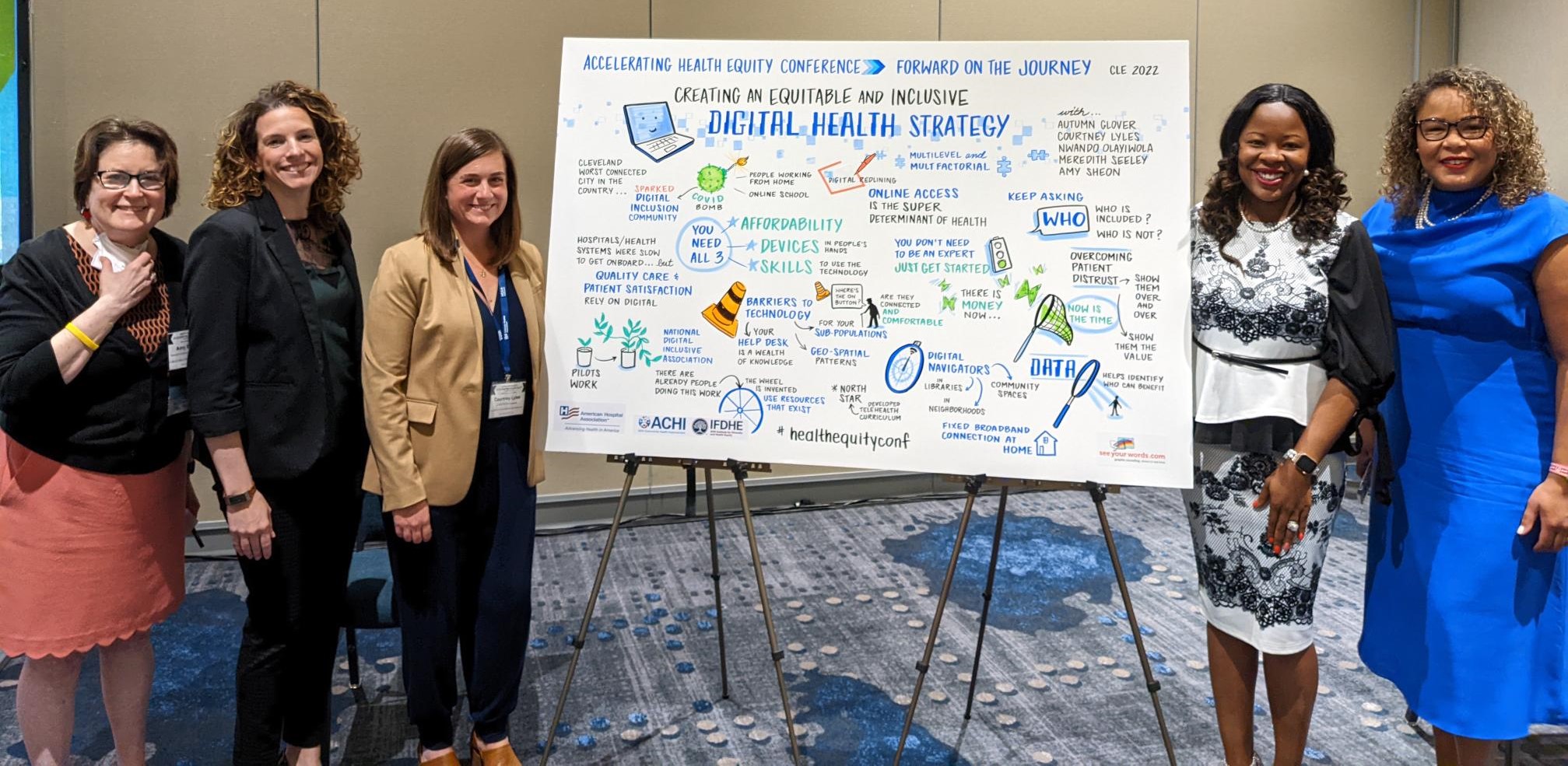 Dr. Lyles was joined by Dr. Amy Sheon, President and Digital Health Equity Consultant at Public Health Innovators, Meredith Seeley, Anchor Program Manager of Community Health and Partnerships at Cleveland Clinic, Dr. J. Nwando Olayiwola, Chief Health Equity Officer and SVP at Humana, and Autumn R. Glover, Senior Director of Community Health Partnerships at OhioHealth, in May 2022 at the American Hospital Association's Accelerating Health Equity Conference. The panel discussed how hospitals and health care organizations can create and implement equitable and inclusive digital health strategies.
Dr. Lyles spoke to the Brown-Lifespan Center for Digital Health's community in April 2022. Her session covered a new framework for advancing digital health equity, and reviewed multiple case studies that highlight practical research and implementation approaches within this space. Dr. Aguilera also served on a keynote panel at the 2021 conference.
Dr. Sarkar is a member of the AMA External Equity & Innovation Advisory Group and offers her expertise to advise the AMA on their strategic approach to ensure equity in innovation. Additionally, Dr. Lyles and Dr. Sarkar spoke with the JAMA Editorial Board about approaches to advance digital health equity on their podcast.
Both co-founders, Dr. Courtney Lyles and Dr. Urmimala Sarkar, met with representatives from the National Governors Association to set the groundwork for a future roundtable discussion on August 11, 2020 with representatives from states, plan representatives, health systems, researchers, and federal officials. 
Dr. Sarkar spoke about the disconnect between health applications and the real-world needs of diverse patients at South by Southwest in 2016.